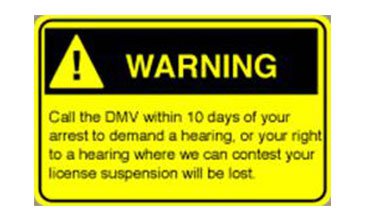 It is illegal to drive a motor vehicle in California with a blood alcohol content (BAC) of .08 percent or above and in the Indio Court they will file and go to trial on an .07. If you are convicted of driving under the influence (DUI) of alcohol or drugs, you can expect to pay well over $5,000 in penalties, in DUI assessments and for a mandatory alcohol treatment program, not to mention a very likely increase in your automobile insurance rates.
The hit to your pocketbook is one thing; the disruption that a DUI conviction can cause to your life for months or even years is something else altogether. Even first-time offenders in the Indio Court face jail and possible suspension of their driver's license, and a second conviction requires a minimum of a 10-30 days jail sentence and the possible installation of an ignition interlock device on your vehicles.
DUI arrests result in a criminal case at the Indio Courthouse, as well as a Department of Motor Vehicles (DMV) administrative hearing regarding license suspension. I represent individuals in both hearings and can do so without the client making an appearance in most cases. The DMV consultation is free with all DUI representations.
I MINIMIZE THE IMPACT OF DUI ARRESTS
I do not view my DUI clients as "criminals," preferring instead to treat them as honest people who have found themselves in a frightening, unfortunate and isolating situation.
At the office of Dale Gribow Attorney at Law, I have successfully helped thousands of individuals fight their DUI arrests and minimize the impacts of arrests by negotiating reduced charges. Not every cases can be dismissed, but I hopefully give you a fighting chance for a positive result.
If you attempt to navigate the court process without an experienced attorney following a DUI arrest, you will likely spend much more on fines and fees than you would on an attorney fee, and you probably will create more disruption to your life than is necessary.
In fact, one of the most important decisions you make following a DUI arrest is selecting a lawyer to represent you. I myself have practiced DUI criminal defense law for more than 35 years, more than 20 of those in the Palm Springs area. It is critical to work with a local AV Martindale, award winning Palm Springs DUI attorney like myself — one who has established a strong reputation in Palm Springs courts.
PERSONALIZED DRUNK DRIVING DEFENSE
Because there is no one-size-fits-all approach to DUI defense, you want to work with a lawyer who will meet with you personally and invest the time that is necessary to learn the unique facts of your case. Often, there are valid reasons to question the tactics used by police during your arrest that could lead to reduced charges or the dismissal of your case completely.
For example, I will review every aspect of your arrest to determine if your constitutional rights were violated or if mistakes were made in the administration of a roadside breath test or blood test. A challenge on the admissibility of any evidence may result in an immediate dismissal of the charges.
PUT AN EXPERIENCED PALM SPRINGS DUI LAWYER IN YOUR CORNER
If you have been arrested for DUI, do not hesitate to contact my Palm Desert criminal defense law firm. In order to challenge the suspension of your license, you must request a DMV administrative hearing within 10 days of your arrest. I am ready to advocate for you in both a DMV hearing and a criminal hearing.
HABLAMOS ESPAÑOL